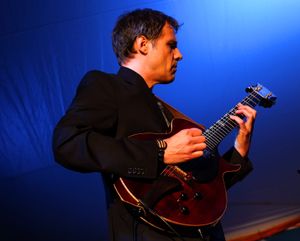 Hoping you are all well in body and spirit at this time.
I wanted to send this email out to you for free access to an improvisation play-along you can use. It is called the Major Mode Vamps Play-Along and is the third part of a course I published quite a few years ago.

The play-along is for all instrumentalists and features keyboards, acoustic bass and drums playing over vamps on the seven major modes with various styles, feels, tempos, and time signatures. There are PDF files, a music player for you to use to solo on the vamps, and a demonstration video where I am improvising over each modal vamp. The play-along and video are recorded with high end studio quality audio and HD video.
There is also a site member user forum where you can view and post on the listed topics, ask me questions, suggest future video lesson topics, and leave links to your own videos or audio using the play-along.
This play-along can be used by many types of instrumentalists and vocalists at any level of ability, and I think you will have a lot of fun being creative and developing your ear while advancing both your playing and improvisational skills.
You can register for free at the link below for access to the play-along on the site member page, as well as any future content including lessons, performance videos and more. As you are already on this mailing list just click the link on the landing page to register your password for free access to the lesson page.
If your interested in private online lessons you can obtain information at the link below.
Stay in touch and be sure to interact and post on the forum if you have any questions or suggestions for future lessons, and I hope to see you all soon.
Thank you,
Jim