CREATIVE ONLINE GUITAR & MUSIC LESSONS
Welcome
Here you can purchase single or discounted package deals for online guitar and music lessons available for all instrumentalists on the lesson topics listed below. Use the contact form below to inquire about booking concerts and master-classes internationally, recording sessions and guitar tracks recorded remotely for your albums, and for any general inquires.
Receive notification to pre-register for Guitar Lesson Videos, a future video guitar and music lesson subscription membership website.
Lessons cover a wide scope of music topics for guitarists and other instrumentalists to advance their playing and musicianship with a creative and inspiring approach.
International online lessons are flexible through various telecommunication platforms such as JamKazam, FaceTime, Zoom, or Skype. It is a great way to study weekly, and all lessons include supportive PDF lesson handouts and a user forum for questions. Reserve Your Lesson below.
Concerts, Master-Classes and Workshops are available for all types of venues, schools, or any self hosted performance and educational environments internationally. Guitar tracks for your projects can be recorded in person or remotely at my own studio with high end analog and digital audio, including multi camera video if needed. Various acoustic steel string, nylon string, electric, and psychoacoustic sampled instruments are available. Please use the contact form below to inquire.
Take Your Playing and Musicianship to the Next Level




Reserve Your Lesson below
Lesson Topics Include:
Fretboard Template Course. a very effective and fast approach to learning the notes, scales, and key centers on the guitar. 

Creative Improvisational Concepts 

Harmonic Vocabulary and Concepts

Comping  Approaches 

Improvisation Audio & Video Play-Alongs 

Motivic Development

Technique 

Music Theory 

Composition 

Arranging 

Sight-Reading 

Ear Training Exercises

Transcription

Practice Approaches. Learn how to practice to learn how to play 

Developing a Personal Sound  (Book Link)

Request Lesson Topics on the Member User Forum

Discussions on equipment and your sound 

Ask  Anything. Questions Can Become Lessons 

Live Streaming Performances and Q & A 

Site Member User Forum 

Request Video Lesson Topics. 

Post Questions and Submit Audio & Video Links of Your Playing to receive feedback. 

Communicate and Share Ideas with Other Members 

Numerous Forum Categories and Topics Covered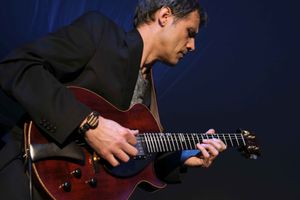 Guitarist and award winning composer,  Jim Robitaille's performances include: The BET Jazz Channel, The Time Warner Music Choice Jazz Channel, PBS Television, The Baird Auditorium at the Smithsonian Institute's Museum of Natural History, Washington, D.C, The Bearsville Theatre, Woodstock, N.Y, The Knitting Factory and Smoke in New York, performances in the West Indies, and international tours.
Jim has performed and or recorded and shared the bill with Dave Liebman, Karl Berger,  Bob Moses, Gerry Gibbs, Santi Debriano, Julian Lage, Esperanza Spalding, Oscar Stagnaro, Kate McGarry, Joe Beck, the Dizzy Gillespie Alumni All-Stars, and has appeared on 30 recordings as a leader and sideman. 
His debut recording with the Jim Robitaille Group called To Music on WCS with saxophonist and NEA Jazz Master Dave Liebman, garnered three composition awards including the 9th Annual Thelonious Monk International Composers Competition for his pieces Arthur C, Miro, and Lost and Found. 
His 2019 release on WCS with the Jim Robitaille Group called A View From Within with saxophone master Dave Liebman, bassist Tony Marino, and drummer Alex Ritz, made the Best 10 Jazz Releases of 2019 list by jazz journalist W.Royal Stokes.
His latest recording on WCS is with the Jim Robitaille Trio with bassist Bill Miele and drummer Chris Poudrier and is called Space Cycles.
Awards include 
The 9th Annual Thelonious Monk International Jazz Composers Competition sponsored by BMI, 
The 2001 Great American Song Contest 
The 2002 Great American Song Contest 
The U.S.A Songwriting Competition 
 The Julius Hemphill Jazz Composers Alliance Competition.  
Performance Grants from the MCC 
Assets For Artists Mass MoCa Grant 
Jim has studied privately with Jon Damian at the Berklee College of Music, in Boston, MA, and with renowned jazz instructor Charlie Banacos. Jim's experience as a teacher includes over 30 years of experience as an international clinician teaching workshops, classes, clinics, and master-classes in Quebec Canada, St John U.S.V.I, Westfield State College, Berklee College of Music, Brandeis University, Holyoke Community College, The University of Massachusetts Dartmouth, Cape Cod Community College, Connecticut College, Western New England College, Bristol Community College, Falmouth Academy, and Tabor Academy 
Jim is an applied jazz guitar lecturer, ensemble director, and founder and director of the Performance Jam Session Series on the Jazz Faculty at the University of Massachusetts Dartmouth.