"They are truly beautiful pieces interpretation-wise and it goes without saying that the improvisations are on a very high level as well. This is pure, unfettered music featuring an abundant sense of lyricism that goes deep.  Something I learned from Miles...if you got it, flaunt it!! Jim definitely had a vision and got it right."
- Dave Liebman
"Over the course of nine tracks, the group creates a varied and dynamic atmosphere. There is also an interesting stylistic variation, no doubt due to Robitaille's thorough expertise as a jazz guitarist. The result of Robitaille quartet's efforts is a fantastic album – varied, engaging and definitely worth checking out."   - Jazz Journal
"..Thelonious Monk International Jazz Composers Competition winner, Jim Robitaille, led the Monk Institute student band in an impressive performance of his award winning composition"
- Jazz Times Magazine"

"What Robitaille has done with To Music is release a remarkable album of modern post-bop. Robitaille is obviously his own man." - Jazzviews UK
"Robitaille's guitar tone articulates a palette of explosive creativity. - Johnston Sunrise
"Quite an impression is made on the listener as these players develop this piece into a breathtaking flight of fancy." - Bill Copeland

"Space Cycles is a unique and extraordinary jazz album, that ventures beyond conventional boundaries." -  Midwest Review
"..With a guitarist with the skills to bring it all together, the Jim Robitaille Group's debut To Music is familiar but also has its own identity."
- Jazz Improv Magazine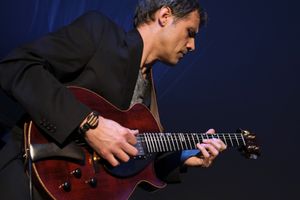 Guitarist and award winning composer, Jim Robitaille, has performed and or recorded and shared the bill with jazz greats Dave Liebman, Karl Berger, Bob Moses, Joe Beck, Gerry Gibbs, Santi Debriano, Julian Lage, Esperanza Spalding, Oscar Stagnaro, Vic Juris, Kate McGarry, Eric Wyatt, Billy Gilman, and the Dizzy Gillespie Alumni All-Stars, and has appeared on 30 recordings and documentary films including "To Music", and "A View From Within" on WCS with the Jim Robitaille Group featuring NEA Jazz master Dave Liebman. His latest release on WCS with the Jim Robitaille Trio is called Space Cycles.
His television and live performances include: The BET Jazz Channel, The Time Warner Music Choice Jazz Channel, PBS Television, The Baird Auditorium at the Smithsonian Institute's Museum of Natural History, Washington, D.C, The Bearsville Theatre, Woodstock, N.Y, the Berklee College of Music, Ryles Jazz Club International, Narrows Center for the Arts, The Wang Center, Boston, MA, The Knitting Factory and Smoke in New York, Quai Des Brumes, Montreal, QC, Canada, Gallerie Larouge, Quebec City, QC, Canada, Club Nectar VT, Veterans Memorial Auditorium, Providence, R.I., Zeiterion Theater, Habitats for Humanity, and tours in the US, and abroad.
The Jim Robitaille Group's debut recording entitled "To Music" featuring saxophonist Dave Liebman, received international critical acclaim winning three international composition awards for three of his compositions from the recording. The CD was number five in the top ten list of 2004 by the Daily Ipirotikos Agon and the Apopsy in Greece and was the publishers pick for All About Jazz and the Boston Herald. The recording received international airplay and was #1 chart-bound on the JazzWeek Jazz chart. His recording A View From Within on also features Dave Liebman and made the top 100 on JazzWeek as well as Royal Stokes top ten jazz releases of 2109.
Awards include The 9th Annual Thelonious Monk International Jazz Composers Competition sponsored by BMI, The 2002 Great American Song Contest First Place Instrumental Category, and The 2002 Great American Song Contest Outstanding Achievement in Songwriting Award. Other accolades include The 2011 Assets For Artists Grant, The Julius Hemphill Jazz Composers Alliance Competition, The International Songwriting Contest, Budrus documentary film, and numerous performance grants from the Massachusetts Cultural Council For the Arts.
Jim has studied guitar and improvisation with jazz guitarist Jon Damian at the Berklee College of Music, Boston, MA, and improvisation with Charlie Banacos. Robitaille has performed concerts and taught workshops, classes, clinics, and master-classes in Quebec Canada, St John U.S.V.I, Westfield State College, Berklee College of Music, Brandeis University, Holyoke Community College, The University of Massachusetts Dartmouth, Cape Cod Community College, Connecticut College, Western New England College, Bristol Community College, Falmouth Academy, and Tabor Academy, and is an applied jazz guitar lecturer, ensemble director, and founder and director of the Performance Jam Session Series on the Jazz Faculty at the University of Massachusetts Dartmouth.
The Jim Robitaille Trio performs original music and arrangements that express a wide scope of emotional elements and rhythmic dialects, generating atmospheres realized with a complete dynamic range from moving ballads to compositions displaying explosive energy. The trio features Jim on electric and acoustic nylon string guitar along with bassist Bill Miele and drummer Chris Poudrier. The trio's new recording on Whaling City Sound entitled Space Cycles, documents their ability to deeply listen to one another and create an empathetic and authentic interplay, culminating in an impassioned journey for the listener within the interpretation of each song.
Download Jim Robitaille Trio Overview  |  Download the Jim Robitaille Trio Bio
Jim Robitaille Trio Natural Selection from the Studio Session for the Album Space Cycles with Bill Miele & Chris Poudrier
Jim Robitaille Trio Chance Meeting
Nightfall by the Jim Robitaille Group
Jim Robitaille Trio Live from Studio 310



Jim Robitaille Trio Arthur C.



Jim Robitaille Trio Falmouth Jazz festival 2019 with Bill Miele & Chris Poudrier
Jim Robitaille Trio Recording Session Space Cycles
Jim Robitaille Group Narrow Center for the Arts Festival with Dave Liebman, Tony Marino & Alex Ritz
Palhaco by Egberto Gismonte.


Jim Robitaille Group A View From Within EPK with Dave Liebman, Tony Marino, and Alex Ritz
Jim Robitaille Trio Standards Montage
Demo promo for Buscarino Chameleon Speaker Cabinets