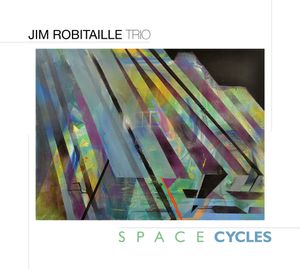 Jazz News
4/24: Jim Robitaille's "Space Cycles" escorts us to beautiful and unexpected places 
After a brief interlude in a group format, Jim Robitaille is back inside the sparse and generous spaces of his trio. Flanked by Bill Miele on electric bass and Chris Poudrier on drums, Robitaille sounds as if he's returned home after being away for a while. Originally, the trio evolved out of a jam session series Robitaille ran out of UMass Dartmouth and today it has certainly become a part of his musical DNA. 
Like most of his previous trio work, Space Cycles explores the lexicon of post-bop jazz, but also features a variety of roots and branches. The sonic spectrum spans delicate ballads and energetic funk. The recording features seven Robitaille originals along with three covers—the jazz standard "Baubles, Bangles and Beads, " "Never Never Land" (from the 1954 Broadway musical Peter Pan), and the Beatles' "Here, There and Everywhere." The canvas is vast and allows for the trio to paint in vibrant colors as it spreads out before them. 
From the moody opener, "Natural Selection, " to the closing, epic ensemble jam "Chance Meeting, " the session is dazzling, even sublime. The colors throughout these arrangements pulse and glow, while Robitaille's guitar tone—born in the legato tradition of names like Hall, Abercrombie, and Scofield—articulates a palette of explosive creativity. At his side, Miele and Poudrier support Robitaille's work with sturdy, confident rhythm and gentle explorations of their own. Miele shines frequently, in spots such as his melodic solos on "Transitions" and "When We Passed." Poudrier is loose on "Baubles, Bangles, and Beads, " and he comes out swinging on "Chance Meeting, " helping the trio to close out the session with freewheeling brio. It is a fitting end to an album that feels like a journey, punctuated by exhilarating straightaways, gorgeous viewpoints, and chilled out rest areas. 
Like a flowing, casual conversation among old friends, the comfort level of the musicians here feels brisk, amusing, impressive, and, above all, satisfying to hear. Robitaille is coming into a new level of expression. His musical scope has evolved, as has the tone from his guitar, leaping over traditional jazz into the great and jazzy unknown, a place where Robitaille, with the help of his longtime accompanists, clearly feels wonderfully familiar.